Meet Dr. Lingua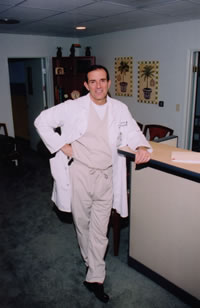 Advanced Technology & Measures

Dr. Lingua takes pride in using only the most advanced technology for each and every one of his patients. And, unlike many other eye centers, Dr. Lingua ensures that a brand new instrument is set up for each eye. Our technology for flap creation is a process called IntraLase.

Post-Procedural Comfort
The 'Dry Eye Guarantee' provides patients with maximum comfort following their procedure. Artificial tears for tear replacement and dry eye management are provided, and dry eye treatment is always a
covered service.

Follow-up Care
Post-operative care can play a very significant role in your vision correction experience. Dr. Lingua's unique follow-up services stand apart from other eye centers by placing his patients' needs first:
Enhancements for hyperopia (farsightedness) are provided, not just for myopia and astigmatism as some centers do. "On demand" enhancements are available.

If you feel you vision results are not ideal, and we can improve them, we will perform the enhancement to improve your vision. Some centers will only provide enhancements when your vision falls below 20/40, which means borderline, legal driving vision.

Personal Service Available 24 Hours a Day
Dr. Lingua is available anytime for your questions, both pre- and post-operatively. Simply dial 714-943-0717 to reach Dr. Lingua directly on his cellular telephone.